This post may include affiliate links and I will receive a small commission if you click one. This is at no extra cost to you and allows this site to keep running.
To me, Budapest is one of the most beautiful European capitals that I have ever visited. The architecture of the city will amaze any traveller and it seems like there is always something new to discover in Budapest. I've been to Budapest two times: one for a short 5 hours stop and the next time for the whole 4 months, and each time I fell in love with the city even more.
Budapest is nested along the Danube river and originally was combined from two different cities across the river: Buda and Pest. Nowadays, Buda is a more serene side of the city and Pest is more contemporary. But both sides have a lot to offer and for travellers to discover.
If you are heading or planning to go to Budapest for the first time, this 3 day itinerary is all you need to experience the city to the fullest and make the most of your stay.
Map from
Wanderlog
, the best trip planner app
Day one
Start the day off with a visit to the Parliament. It is probably one of the most popular landmarks in Budapest, so it is a good idea to visit it as early as possible to skip the crowds. You can admire the beauty of the building from outside and also take a short tour inside the building for a small price to see the stunning interior of the Parliament.
TIP: Purchase tickets in advance here as there is a limited number of tickets for each visit.
After a visit to the Parliament, head across the street to the Danube promenade. You will find a memorial of shoes along the way which was designed to remind people of the Holocaust victims who were shot straight into the river on the very spot the shoes now stand. Take your time to show your respects and then continue walking down the bank of the river.
After a few minutes of walk, you will reach the Chain bridge which connects Pest and Buda sides. The bridge is famous for stone lion sculptures on each side of it and its historical meaning to the Hungarian capital. It is certainly one of the most photographed landmarks in Budapest.
After crossing the Chain bridge, head over to the Buda castle which is right on the hill. It is a historic royal palace complex built in the 13th century and it is now a place for various museums and art galleries. You can take a guided tour of the castle if you wish but I would suggest exploring it on your own as you go along. You can stop near the funicular to watch the change of guards which takes place every hour from 9 AM to 5 PM.
TIP: Don't waste your time waiting for a funicular ride up the castle as it gets very much touristy and you might have to wait over an hour for your time. Also, say a polite 'no, thank you' to guys trying to get you to take a lift with these mini cars up the hill for quite a ridiculous price.
It is really not that high of a hill and it will probably take you maximum 20 minutes to go up with short stops to admire the view from the top.
After watching a change of guards and exploring the castle complex, go straight to the famous Mathias's church and Fisherman's Bastion. These are the places that always are filled with tourists, so bear that in mind. But as you will get there, it is not hard to see why so many people want to see both the church and the bastion.
You can enter the church for a fee and admire its beautiful interior and watch the city from the bastion. If you are feeling fancy, you can even make a stop and have a coffee or wine in the restaurant right on top of the bastion. It is expensive but if you feel like splurging, this is a great place to do so.
Matthia's Church visit price is HUF 1,800 (around 5,7 EUR) for adults and HUF 1,200 (3,8 EUR) for students.
TIP: If you want to skip crowds and take beautiful photos, go there just before the sunrise.
When you are done exploring architectural wonders, go to any restaurant in Buda side that you fancy to relax and fill your stomach with delicious food. After a lunch break, head over to the Labyrinth of Buda and immerse yourself into the history of the great Dracula.
You can explore these tunnels in complete darkness with only a lantern in your hand or you can do it in the light if you aren't a fan of the darkness and creepy dungeons. I was very much scared but I'd 100% recommend going with a lantern for a full experience.
Prices: HUF 2,500 (7,9 EUR ) for adults and HUF 2,000 (6,3 EUR) for students.
To end the day take an evening cruise of the Danube river. It will last about 1 hour and will take you through all must-see signs of Budapest. Some of them will even give you a complimentary drink which is not a bad deal if you ask me.
The evening cruise was probably of the biggest highlights of Budapest for me as the city looks absolutely stunning at night with all the buildings illuminated. Plus, the best view is always from the riverside!
Prices vary from 9 EUR to 30 EUR per person.
TIP: You need to book in advance, especially in peak season. I took this cruise.
Day two
Start the second day at Heroe's Square which is easily accessible with metro line M1. This is the largest square in Budapest located near the City Park and at the very end of impressive Andrassy Avenue.
After looking around the square and its monuments, walk straight to the City Park where you can find Vajdahunyad Castle by the pond. The castle itself is a real representation of how the architecture changed over time in the city. Walk around the castle, take a boat to sail around the nearby pond or go inside the castle and explore current exhibitions if you wish.
After spending some time in the park and around the castle, you can enjoy a long and relaxing afternoon at Széchenyi Thermal Baths. It is the biggest thermal baths complex in the city and you can even have a drink while at it. If you're in Budapest, you simply can't skip a thermal bath in your itinerary. Bucket list item, guys!
TIP: To skip long lines and have the best experience, book a ticket in advance here.
After relaxing spa time, take a walk down the largest street of Budapest, Andrassy Avenue, which connects the City Park to the city centre. You will find many luxury stores on your way, as well as more cultural objects such as Opera and the National Theather.
Near the end of the street, you will reach St. Stephen's Basilica, the largest church in Budapest that was dedicated to Hungary's first king, St. Stephen. The basilica is beautiful inside and outside, so take your time exploring it. Also, if you want to have a nice panoramic view of the city center, you can climb up to the tower for a small fee.
Prices for the tower: HUF 600 (2 EUR) for adult and HUF 400 (1,3 EUR) for a discount ticket.
To end the day, walk down the riverside to locals' favourite place, Margaret Island. It should take you no more than 30 minutes to reach the island. Or you can take tram 2 if you aren't feeling like walking.
One thing you definitely should do is catch a spectacular fountain show at 9 PM (from spring to the middle of autumn). It is an hour-long show with lights, music and projections on the water. The best thing is that it is absolutely free to enjoy!
If you don't feel like waiting for the last 9 PM show, you can catch shorter shows every hour throughout the day.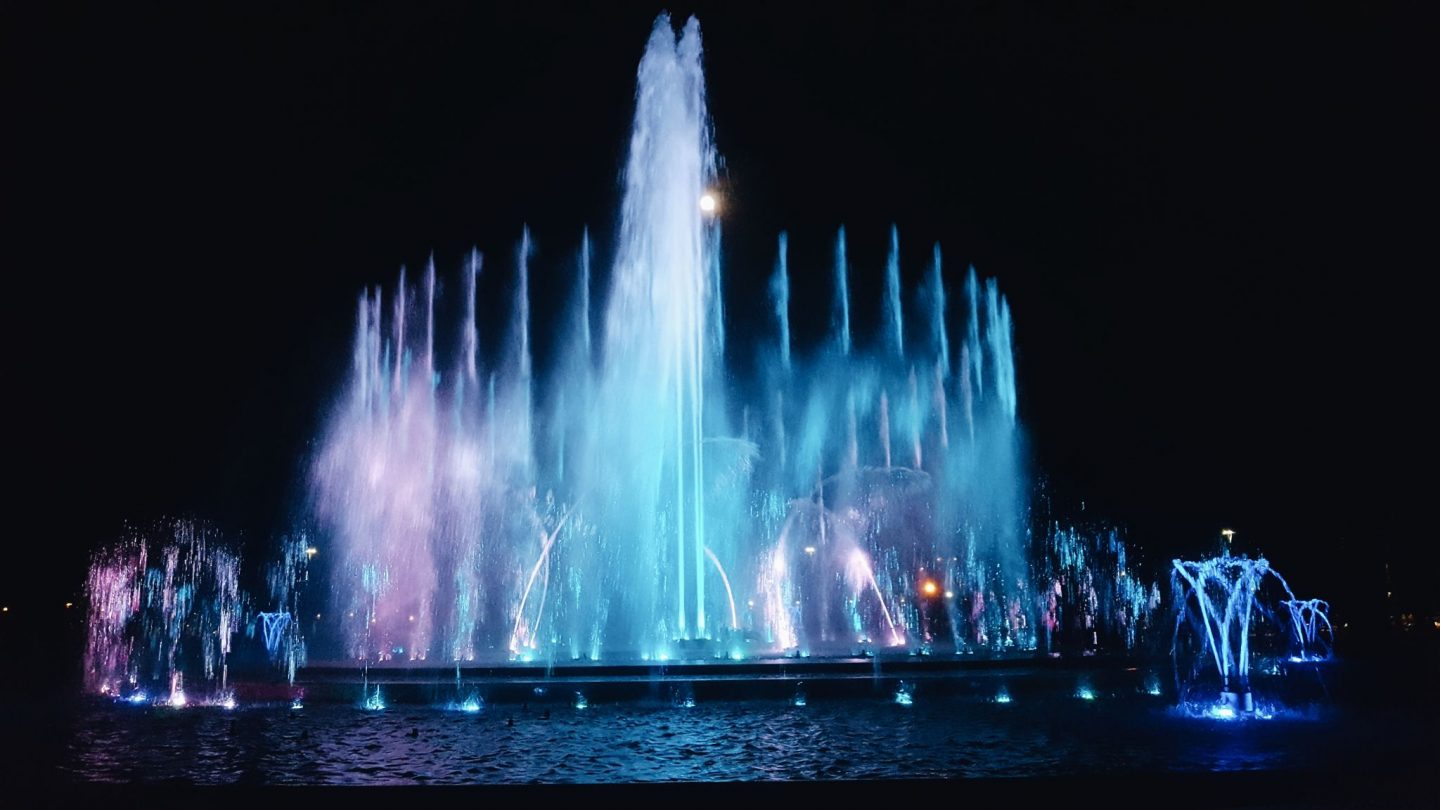 Day three
After full two days of exploring, I'm sure you'll want to have a more laid-back kind of day. Plus, it's a great time to buy some souvenirs or presents for your friends and family.
For a bit of gastronomic experience, head towards the Jewish Quarter. This is where you will experience the best of Hungarian dishes can offer. I would recommend checking out Cupakos Restaurant. It is a butcher shop style restaurant where you will taste the best Hungarian sausages and delicious fresh sourdough bread on the side.
You can wander around the streets of the quarter for an hour or so. The best way to explore this side of the city is simply getting lost in small and narrow streets. You will find the best gems this way!
For handmade souvenirs and presents, head over to Central Market which is right next to the Fovam Ter metro station. It can get quite busy during the days as this is the place all locals go to for fresh fruits, vegetables and other products.
You can also check out Vaci shopping street which is close by for more souvenir type of shops and even clothing stores.
Spend the day simply wandering around, trying to take in as much as you can while you're in this beautiful European capital.
An hour before the sunset, head over to the Citadel on the Gillert's hill. This is the best spot for the most spectacular view of the whole Budapest. It is quite steep but the view is worth it, believe me.
Sit on one of the benches on top or stand by the railing and look at how city changes as the sun starts to set down.
TIP: bring your camera because you won't want to miss this view.
If you still will have energy and time, after the sunset, go to one of the ruin bars in the city centre. These are abandoned buildings turned into cool, hipster kind of bars that all the locals and tourists seem to enjoy a lot during evenings. Check out Szimpla Kert or Ankert's for the best experience. You can even check out one of the pub crawls for a crazy fun time.
Check out Szimpla Kert or Ankert'sfor the best experience. You can even check out one of the pub crawls for a crazy fun time.
TIP: If you're staying longer in the city, you can include a day trip to see the Danube bend in a small castle town, Visegrad or learn more about Hungarian history in Eger. Or check out other incredible day trips from Budapest!
How to get around Budapest?
Budapest is a fairly big city, so you are quite likely will have use public transport to get to one place to another. The good thing is that it is super easy to use and quite cheap compared to neighbouring Austria.
A single ticket for bus, metro or tram will cost you HUF 350 (1,1 EUR) for a full price. You can purchase the ticket from the vending machines which are almost always near the stop or station.
If you will purchase a ticket on the vehicle, it will cost you a bit more – HUF 450 (1,4 EUR).
You can purchase Budapest 72-hour travelcard from the same vending machines for HUF 4,150 (13 EUR). You will be able to use it on all public transport including trams, metro, buses and even boats such as D11, D12 (only on weekdays).
Another option is to get a Budapest Card which will give you access to all transport, free entrance to 17 museums and up to 50% discount on various tour, sights, baths, museums, bars, restaurants and other fun things.
You can get Budapest Card from 24 to 120 hours depending on how long you'll need it for. Simple 72-hour Budapest Card that would be perfect for your 3-day trip costs around 44 EUR. You can learn more about it or get yours here.
Where to stay in Budapest?
Budapest is one of the most affordable places in Europe, so you can find accommodation for all types of budgets depending on what you're willing to spend.
Budget-friendly option – Hostel One Basilica
Mid-range option – Promenade City Hotel
Luxury option – InterContinental Budapest
Are you planning on visiting Budapest?