This post may include affiliate links and I will receive a small commission if you click one. This is at no extra cost to you and allows this site to keep running.
Easily, one of the most beautiful places in the Brno area is Moravian Karst, protected nature reserve located near the town Blansko. When I was researching for my upcoming Czech Republic trip last year, I came across Punkva Caves and Machocha Abyss, both incredibly beautiful natural settings that I knew I had to visit.
However, as always with less popular spots, there wasn't much information about it and how to get there from Prague, so I decided to write an article with all the important information and tips I wish I found back then in one place. In this article, you will find out how to reach Punkva Caves and Macocha Abyss from Prague and Brno, how to book a cave tour and what to look out for during your visit.
How to get to Punkva Caves
The caves and the abyss are located around 38 km away from Brno, thus making it an easy day trip from Brno. However, it is still possible to get there from Prague if you have an extra day there and would love to see more nature of the Czech Republic.
From Brno
Punkva Caves are situated 1 km away from the Skalní mlýn Information Center which can be reached from Blansko. The easiest way is to reach it with a car, of course. It would take you around 40 minutes to drive to the location. You will find a parking space near the information centre.
However, if you prefer to use public transport, it will be a bit tricky but very much doable with a bit of preparation in advance.
When in Brno, you have to purchase a 5 zone, 120-minute transit pass which will cost you 34 or 42 CZK (1.3 – 1.6 EUR) depending on the train. If you're a student, don't forget to bring your international student card as you'll get a discount (final price: 10 CZK – 0.4 EUR).
Take an S2 train from Brno hl. n. to Blansko, it should take you around 30 minutes to reach your stop. From experience, I can say that it is quite challenging to find the right platform in the central station, so don't hesitate to ask around for help.
From Blansko train stop go to the bus station which is around 2-3 minutes away by foot. From there, take 226 bus to Skalni Mlyn, it should cost you 10 CZK (0.4 EUR). You will definitely see where to get off the bus as you can see stops inside the bus. Also, you can always check Google Maps to be 100% sure.
Extra tip: note the bus times while in the bus station for the return times. During weekdays there is a huge time gap between 3 and 5 p.m., so make sure that you make it to the bus on time.
In the Skalni Mlyn, go to the ticket office and collect your tickets at least 40 minutes in advance (these are the official rules) and then you can walk to the Punkva Caves down the paved road. It should take you around 15 – 20 minutes to reach them. Or you could take a mini-train which will cost you 100 CZK (3.8 EUR).
From Prague
To reach Punkva Caves from Prague all you have to do is take a bus or train to Brno and then complete the exact same steps as mentioned above. There is no alternative public transport route asides from this.
A bus or train from Prague to Brno should take you around 2.5 hours and will cost you anywhere from 4 to 10 EUR depending on the provider, time of the day and other things. I would recommend checking out RegioJet first as they tend to provide good prices within the Czech Republic.
A day trip is definitely manageable from Prague but I would suggest adding a plus day to explore Brno as well to make it more worth the travel time. You'll spend around 4 hours travelling one way from Prague, so it is definitely something to think about.
Useful links:
Booking a visit to Punkva Caves and Macocha Abyss
To visit the caves and the abyss, you have to book a tour which involves a short boat trip as well. The tour takes you around all Punkva caves, Macocha Abyss and shows you the most notable sights.
The tour takes around 1 hour and costs 210 CZK (8 EUR) or 180 CZK (6.9 EUR) for a reduced price (students and seniors over 65 years).
Since it is very popular and well-visited cave system among Czech tourists and foreigners, it is recommended to book your visit in advance via email or phone which you can find on their official website. Especially if you're visiting during summer months, book well in advance if you want to be able to choose a time suitable for you.
In my case, I was booking the tour for two weeks in advance and the only time left for that day was early morning. So, I'd say a month in advance is the way to go or as soon as you know you'll be going there.
You will have to collect your tickets from the information center the day of your tour, at least 40 minutes before the tour starts.
Punkva Caves and Macocha Abyss tour overview
The guided tour will take you around a circular route which begins and ends in the same place. The first part of the tour involves a bit of walking and exploring the inside of the caves and ends with a second part – a boat tour along the underground Punkva River.
Tip: wear good athletic or hiking shoes with a good grip as paths and stairs can get quite slippery due to humidity. Also, dress warmly as the temperature underground is 8°C.
During the tour, you'll see a variety of stalactite, stalagmite and column formations, including the largest stalactite column called Strážce. You will walk through different chambers and observe domes, as well as mirror pond which will make up for a perfect photo opportunity.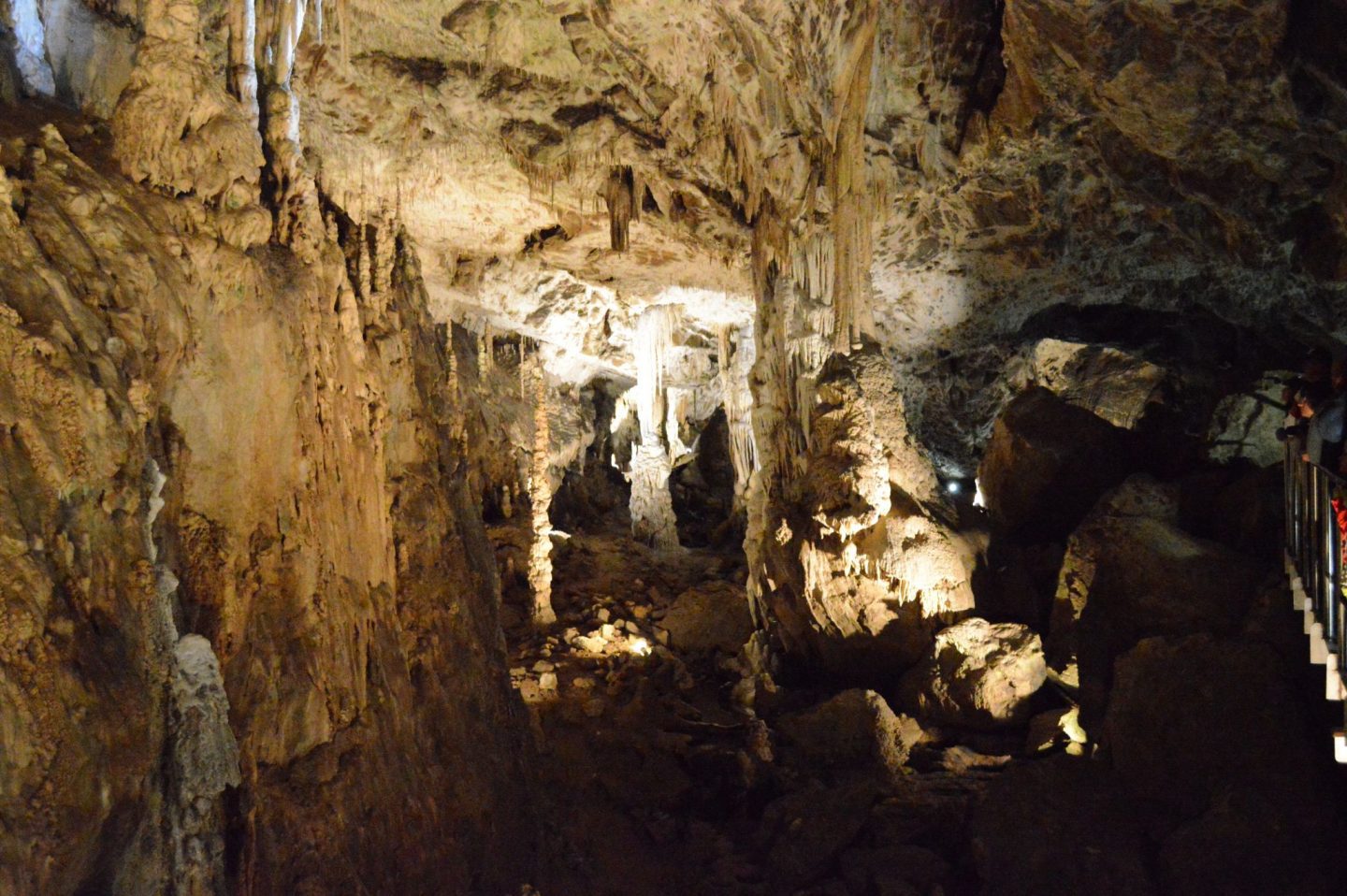 As you walk through the cave, you'll hear distant orchestral music in the background which will either make it a more spooky or spectacular experience for you. At the end of walking part of the tour, you'll enter the spectacular Macocha Abyss which is definitely one of the highlights of my trip around the Czech Republic.
You'll have a chance to admire the gorge, the lower and upper lakes from the bottom of the abyss. Quite frankly, it makes you feel like you're in the middle of the jungle somewhere far far away from civilization.
After Macocha Abyss, you'll take a boat tour along the underground river which will take you through all the lakes in this cave system, as well as the most beautiful place of it – Pohádkový Dóm.
The tour is definitely an experience and was very much worth getting up at 3 a.m. to catch a bus from Prague to Brno. The only downside is that all guides speak only in Czech which means you understand literally nothing during the tour. You get a pamphlet which you can read in English during the tour but the lighting is so bad underground that you don't even want to bother.
But after travelling to the majority of European countries and exploring their caves, non-English tours are no surprise. Hopefully, one day they will start organizing English tours or at least provide some kind of headphones with pre-recorded voice overs.
Are you planning on visiting Czech Republic soon?​​​​​​​
Pin to save for later!
This article was sponsored by CzechTourism as part of their #CzechIn2021 campaign. As always, all opinions are my own and 100% honest reflection of my own experience.